With summer coming quickly and the return of major league baseball, we are excited to spend the summer months watching some baseball, drinking some beer and eating some amazing baseball stadium food. While most of us think of peanuts and hot dogs when they think of stadium food, these major league teams aren't messing around and have come up with some crazy snacks for you to choose from while watching the big game. Check out 20 of the wildest baseball stadium snacks here!
The Venom Dog
Instead of making this into a burrito, the Arizona Diamondbacks have decided to make it into a hot dog. It is a footlong habanero sausage topped with black beans, sour cream, guacamole and pico de gallo. We might prefer this version over a normal burrito!
Tatchos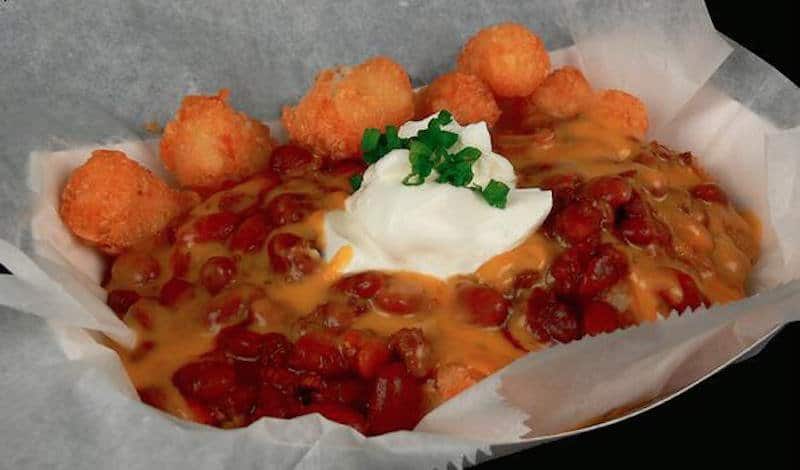 The people sitting next to you might not like you eating these, but they look amazing. The Pittsburgh Pirates have replaced the tortilla chips with tater tots for this snack, which is topped with chili, cheese, sour cream and chives.
Bases Loaded Burger
The New York Yankees didn't know when to stop adding things to this burger, as it contains cilantro dressing, cheese, garnish, and fried mac and cheese layered between a King's Hawaiian bun. We are not sure how anyone can even bite into it, but we'd definitely try!
The Liberty Village Smoked Pork Sandwich
The Toronto Blue Jays are getting all fancy with this sandwich! This is apple chutney, dijon and slaw mixed with smoked pork on an onion bun. Fancy or not, we want one!
Chicken-Fried Corn On The Cob
Corn on the cob might be a healthy option for a ballgame, but not in Texas! The Rangers are battering it up and frying it for their fans, which makes it look absolutely amazing.
Choomongous
The Texas Rangers love their outfielder Shin-Soo Choo, so they made this sandwich for him. It is a 24-inch sandwich and contains Asian beef topped with spicy slaw and Sriracha. Want to try it? Well, get ready to pay $26!
The Closer
While cheering on the Pittsburgh Pirates you can also enjoy The Closer, which is two grilled cheese sandwiches made with nine different cheeses smushed together. Add in some candied bacon and sounds like a winner to us!
Rocky Mountain Oysters
How do they deep fry oysters in Colorado? Well, they don't! The Colorado Rockies serve Rocky Mountain Oysters at their home games, but they happen to be deep-fried bull testicles! However, people still keep eating them.
Churro Dog
The Arizona Diamondbacks have introduced a Churro Dog this season, which is a cinnamon churro on a Long John chocolate-glazed donut. This is topped by frozen yogurt, caramel and chocolate sauces and some whipped cream. This will help cool you down in Arizona while watching the game!
Murphadilla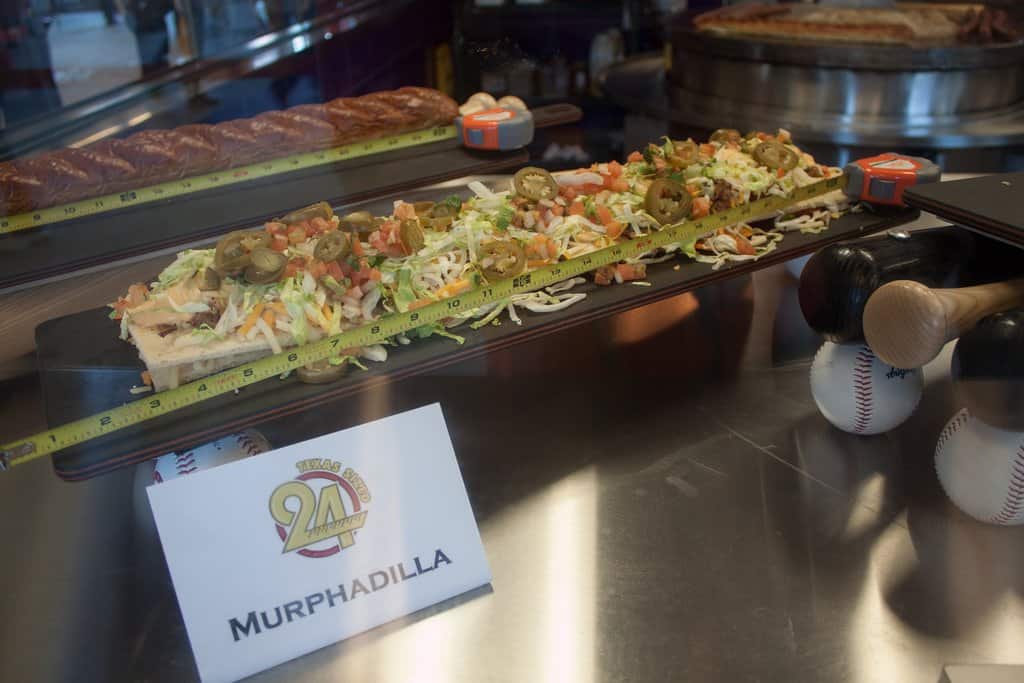 This is a favorite of Texas Rangers' outfielder David Murphy, hence the name. It is 24 inches of shredded cheese, pico de gallo, beef brisket and more in a quesadilla; all on a bed of Doritos. They had us at 24 inches!
4-Pound Burger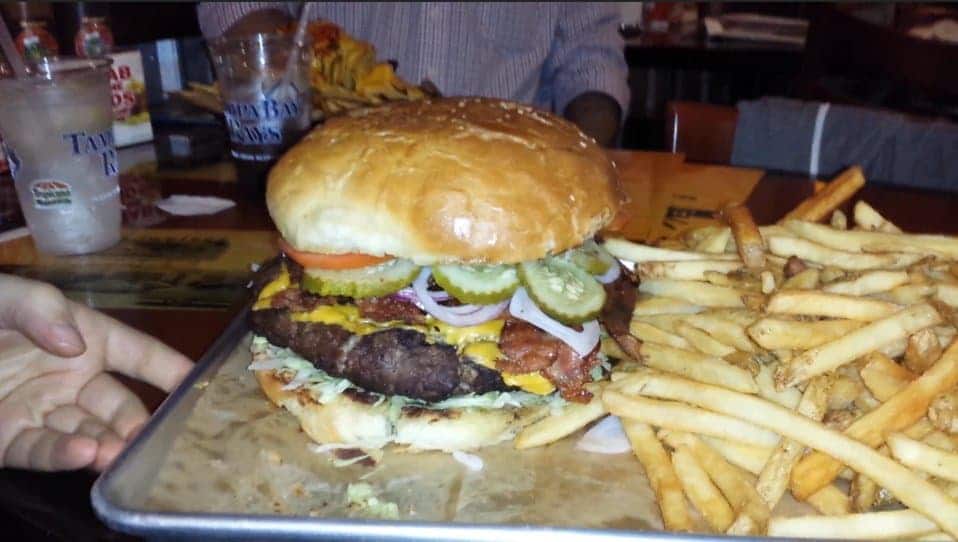 The Tampa Bay Rays offer this four-pound burger, but with a twist! If you can finish the burger and a pound of fries that come with it, then you win two season tickets and a t-shirt. Sounds fun, but not many have been able to complete the task.
Mac Bat
You can also grab this Mac Bat at a Tampa Bay Rays game, which is a cone filled with mac and cheese! Top it off with bacon, chili or tomatoes and you'll be a hit among the crowd.